IMPORTANT MESSAGE – MUST READ
ATTENTION South Dakota PGR MEMBERS!!!
This is a very important letter. Please read it in it's entirety.
It has come to my attention that a few of us have purchased a new PGR back patch that is not in adherence to "Motorcycle Club" standards. It is the 3 piece patch with the Fallen heroes round patch in the middle and the rocker Patriot Guard on top and the rocker Riders on the bottom.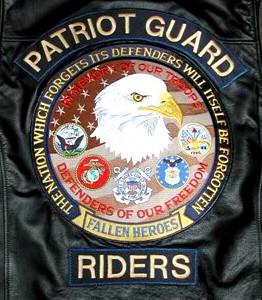 As you all know, we are a motorcycle group, not a club.
We have always enjoyed a great amount of support and respect from the Coalition and all the Motorcycle Clubs that we share the road with. I do not know who designed this patch, and I understand it is only being sold on Ebay, but it is not an approved patch to wear in accordance with Coalition rules.
The problem lies with the fact that it is a 3 piece patch. For those of you who are not aware, a three piece patch denotes a member of a motorcycle club. We as members of a motorcycle group purchase our back patches and a group usually has a few different patches to choose from. A member of a motorcycle club "Earns" his patch. It is a long and challenging process to go through to earn the right to wear a three piece patch on your back. Therefore, and understandably, the Coalition is not giving approval to wear this patch. Therefore, if you have this patch and are wearing it, I am asking you to cease imediately.
The bottom line here folks is Respect. That is all that is being asked of us by the Clubs who's members earn the right to wear such patches. There is a very good web site that I encourage all of you to look at. http://www.rcvsmc.net/index.html is a site that was put together to educate riders on the difference between motorcycle groups and motorcycle clubs. You will see over and over again that respect between the two organizations is very important. Just like our mission statement and the respect we show our Veterans. This site will educate you on the history of clubs and the three piece patch as well as how to enter-act with club members. It is very interesting and I highly recommend reading it.
Again, If you have this patch, it is very important that you contact me ASAP and you stop wearing the patch. When you are shopping for a patch or deciding what you would like to put on the back of your jacket, keep these things in mind.
1. Do not use a 3 piece patch.
2. it is a good idea to stay away from city or section of a city and state names, such as having Sout Dakota or a town name on the back of your jacket or vest. Having these on your back may denote a territory or turf.
3. The safe bet is to purchase your PGR patches and gear from National PGR site store atwww.patriotguard.org and click on the PGR Gear in the site navigation box at the left. These sites are aware of the rules and you are pretty safe with what you buy there. I would suggest staying away from sites such as Ebay because we do not know who is selling this stuff. If you have any questions as to whether something is OK to wear or not, check with me or a ride captain before you buy and I will find out for you if I don't already know if it is an approved item or not. This could save you some money, embarrassment, or even worse if you wear the wrong thing on your back.
I appreciate your cooperation. If you have any questions, as always, you can contact me. Thanks a bunch. Take care and ride safe.
Jim Lentsch
State Captain