Patriot Guard Riders Mission Statement
The Patriot Guard Riders is a diverse amalgamation of riders from across the nation. We have one thing in common besides motorcycles. We have an unwavering respect for those who risk their very lives for America's freedom and security. If you share this respect, please join us. 
click here to read more…..
Patriot Guard Riders of South Dakota had the honor of
being invited to the unveiling of the new Veterans Monument in Harrisburg SD.
Thank You. read more….
IMPORTANT MESSAGE – MUST READ
 ATTENTION South Dakota PGR MEMBERS!!!
This is a very important letter. Please read it in it's entirety.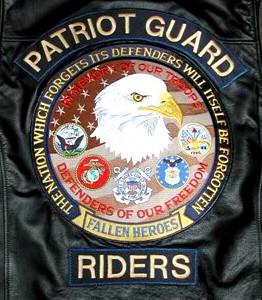 It has come to my attention that a few of us have purchased a new PGR back patch that is not in adherence to "Motorcycle Club" standards. It is the 3 piece patch with the Fallen heroes round patch in the middle and the rocker Patriot Guard on top and the rocker Riders on the bottom. click here to continue.
National Website Update Information
Important information you should know about the National Website
Please read the Amended Code of Conduct from National Patriot Guard Riders. It is very important every member know these.
South Dakota Patriot Guard Riders a 501c3 Not For Profit Volunteer Organization